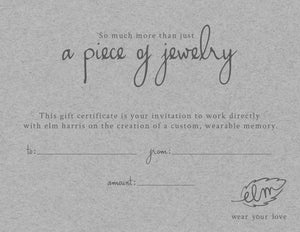 When you're not quite sure what to get, this lovely letter pressed gift certificate will give the recipient the opportunity to work with me to create a meaningful piece of jewelry!
On thick kraft brown cardstock, 3.5" x 5" and letterpressed design.
Select the amount from the drop down menu.  The gift certificate will include a code which the recipient can enter at check out to receive their gift. 
Please enter the shipping address for the recipient if desired- (I can also ship it directly to you so it can be presented in person!)