jewelry inspired by nature & nostalgia; memories in metal.
Testimonials
What you are doing is beautiful and amazing.  Don't ever stop. 

Joy
I received the cufflinks today.  I am speechless.  You did everything perfectly.  I wasn't sure how big or small they would be, but they are the exact right size.  I wasn't sure how much of the surface area the images would cover, but they cover the exact right area.  The engraving is gorgeous.  You really made me the most special 50th birthday gift I could hope for...I will proudly wear my Leo-engraved cufflinks.

Thanks you so much, you did a beautiful thing

Batur
We received the necklace yesterday. It is amazing!!!!!! My wife told me it was the most thoughtful gift I have given her in our 20 plus years together. I really appreciate your efforts and will let others know about your work.

Thanks and God Bless

Wes Jones
From initial contact to the delivery of the finished piece, you were compassionate and professional. You are so talented, and I feel blessed to have crossed your path. The reliquary exceeded my expectations, and it now hangs proudly from my review mirror, as my beloved dog was happiest when he was riding with me in the (his) convertible. Great communication throughout the process, and the packaging was beautiful. Thanks to you, Erin, Harrison rides again. :)

Donna
I presented the necklaces to my family on Christmas day - there were tears but only because the necklaces immediately brought back all our wonderful memories of Holly. Beautiful work Erin. Thank you so much.

Avalon
I cant say enough about Erin, AMAZING person, AMAZING jewelry, so so blessed to know her and own some of her creations, helping to heal some much broken hearts

Candace
Best piece of jewelry ever! Erin did a fantastic job of memorializing my beloved Lambchop. Excellent communication and a beautiful piece. THANK YOU!!! 

Joanna
I cannot describe in words what I felt when I saw and held this piece of art for the first time. I cherish it... and every time I admire the piece, I get the same feeling... I adore it.   It is my most favorite piece of jewelry.  It is truly a treasure and I am so grateful to have come across erin and commemorative jewelry. You did a phenomenal job!

Haley
Erin-- I just picked it up and opened the box. I want to express my deep gratitude. Everything is perfect. And you packaged and presented it with such care and kindness, down to the lovely quotation. The pendant is beautiful--everything I hoped for. Thank you, thank you for your wonderful work and your understanding of the love and pain of this loss. I will cherish the piece always.

Anna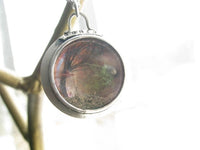 the story (in a nutshell)
It was the loss of a special dog that led me here.  After he died, I made a reliquary, with fuzz from his favorite tennis ball, his hair tied in silk thread, and soil from his burial site.  Wearing it gave me a tangible connection to my memories of him.
When people began asking if I could make a memorial for their lost loved ones, I realized the power of jewelry. It is so much more than just pretty adornment.  
Jewelry provides a way to preserve a moment in time:  to touch memories.  It reminds you of who you are, and who you love.
I create jewelry that feels like a  hug and invites you to wear your love.